So, you decide to start a dropshipping store. You wander around the internet and are blinded by the innumerable choices of apps to use and blogs to peruse. Where do you begin? These three Shopify dropshipping models may help you decide which one is best for you.
Reddit, of course. You lose track of time and here you are, 3 hours later, watching a crow mimic a human voice. Wait, dropshipping.
The singular e-commerce solution that solves the trillion-dollar inventory distortion issue, if done correctly. Stress on the correctly.
E-commerce entrepreneurs are thriving: the dropshipping business does not seem to be slowing down. In fact, projected sales for online businesses are pegged at 700 billion US dollars in 2022.
But selling online is not as black and white: Dropshipping is often viewed through a singular lens, ignored to its multiple variants, even lesser to the benefits and disadvantages of the various options available. The model you choose to work with for your dropship business can have a huge impact on your brand: a major pothole in your business can be successfully avoided by swerving to the right dropshipping suppliers!
Let's take a look at the pros and cons of three major dropshipping models dominating the market so your beginning can be more informed and less maniac:
AliExpress Dropshipping:
This is one of the most popular dropshipping models out there. Retailers can simply pick products from AliExpress and add them to their store – only to purchase a product when a customer orders it.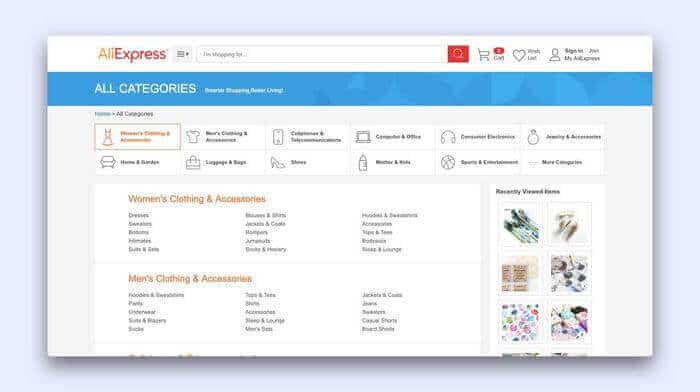 An immense number of successful businesses (and unsuccessful ones) have their dollar pinned to this model. With an ocean's worth of products available at your service, you can essentially target any audience and thence, build your online store.
A number of drop shipping companies allow for easy scraping for Aliexpress products, to reduce the initial effort of adding products.
Why dropship products from AliExpress:
1. The range of products:
The wide variety of products available to you is easily the best reason to operate within the AliExpress model. From hello kitty stationery to wooden sunglasses, hundreds and thousands of sellers offer lucrative products that are often not found in local US markets.
This means unique products for dropshippers that appeal to customers of all ages and interests. (Including wax stamps for my 70-year-old Asian grandpa).
2. The profit margins:
Since AliExpress products are manufactured in China, the product prices are drastically lower than the average cost of items in the US. This is attributed to a wide number of reasons, right from lack of intellectual property regulations to currency leverage and excellent infrastructure – regardless of the reason, AliExpress products are incredible hits for e-commerce businesses owing to the large profit margin they offer to drop shippers.
3. Lower shipping costs:
This point can be summed up in one single word: ePacket. A special arrangement between the USPS and Hong Kong Post and eBay China which minimizes shipping costs to a bare minimum.
Since 2011, shopping on AliExpress has become a whole lot easier on the pocket with shipping costs matching the low product prices.
Now I hear you thinking, this sounds awesome – why could I possibly not want to dropship AliExpress products?
1. The waiting:
ePacket may have made shipping a lot cheaper, but heaven knows it still takes a month or more for the packages to reach the customer. With the age of instant gratification dawning upon us, longer shipping durations simply do not make the cut.
People regard week-long shipping as the longest shipping duration tolerable – and satisfaction at the very earliest date is prized above all. Product sourcing works fine with AliExpress, but order fulfillment is not a guarantee.
2. Quality unassured:
The products are quite cheap and distinctive, in a creative sense. But often, it is the quality that misses the mark. The cloth is too thin, the wood wears out, the plastic is flimsy, the glass was cracked upon arrival.
Your products are the core of your brand, and if you do not go through rigorous testing of new products, you might suffer the dissatisfaction of customers. You have to find winning products which you can sell and make a good profit from them.
3. Your branding is lost amidst Chinese invoices:
It is a fairly common complaint that products shipping from China does not hold up to packaging expectations of customers. Rough boxes with lots of Chinese print on them could take away a lot of your brand experience.
But even worse is when your invoice is missing from the package, replaced by the supplier's invoice. It could turn into quite an awkward conversation with the supplier as you try to explain the marked up costs.
Fine, maybe AliExpress dropshipping is not the best of ideas. What are other models that you could test out?
What about dropshipping high-end products? Sounds a pretty sweet deal.
High-End Products:
Expensive products translate into high profits in most retailers' minds. You can create a store based on high ticket items that are worth $500 or more, following the same dropshipping structure to erase inventory holding. In this model, you would source products from local US suppliers and mark them up by 30-40%. Let's dive straight into the pros and cons of this model to evaluate whether it is worth an attempt!
What High-end products will facilitate for you:
1. Huge profits
A single product worth more than $500, could bring you about $200-300 in profit: whereas low ticket items such as mugs and beanies would require at least 30 orders per month to reach this profit.
One order for a sofa or mountain bike would bring your month to a successful conclusion, whereas you would have to hunt for over 30 customers to purchase your product in order to make sufficient sales to be close to success as a dropshipper.
2. Invested audience
Sure, a person may spot a dazzling bracelet scrolling on Facebook and check out your store. One might lazily browse through collections of lapel pins, but if a person is typing out 'Chanel Rouge Coco Lip Colour' in their browser or a similar high-end product such as assortments of furniture, more often than not they are looking to purchase, rather than simply browse.
With high ticket items, your audience is already decided: the only concern is the right product. You do not have to spend time convincing them to buy a product: what they need convincing for, is choosing your product. This reduces your work by a fair amount.
3. Lifetime value
If you purchase a pair of brilliant headphones and have a great customer experience with the store, there is a 75% chance that the next time you need to buy an electronic item, you will bestow more than a cursory glance towards the store: the likelihood of your customers returning to your store if pleased with your service is high.
This is known as Customer Lifetime Value, which is essentially the amount of money made from a customer before they turn to a competitor, stop using the product or service entirely or die. With high ticket products, the CLTV is generally high, while low ticket products are impulse buys: not quite as high retention value.
High-ticket items sound pretty intriguing, till you encounter the cons of the model:
1. Competition:
When you are dropshipping products such as bathtubs or wine coolers, your competition is not your average next-door dropshipper. With products such as these, you are aiming for customers who overlap the interests of bigger brick and mortar stores: local, trustworthy stores that have an edge over you for one simple reason.
Customers can touch, examine and feel the products in real stores, making decisions easy. The whole process of trusting your online store with nothing to go on makes things quite tedious: and imagine how difficult and unpleasant returns would be for a customer.
But the problem lies deeper: your competitors within the high-end product's niche would be brands such as IKEA or Adidas stores. These brands hold significant sway in the market, and making space for your store would entail humongous efforts.
2. Your brand vs theirs:
This is an offshoot of the former piece of critique of dropshipping high-end products. Building a trustworthy brand is of the essence when dropshipping products as expensive as bathtubs. While a headband or even a pair of pants might not require the customer to put in much thought, a heftier purchase will prompt the customer to run checks and compare prices.
Any discrepancy in your brand perception might trigger the customer to skip the sale and opt for a more established, reliable opponent.
While high ticket products undeniably create room for more profit, they are also the most tricky sells.
3. The requirement of Start-up funds:
PayPal payments take weeks to arrive and even Stripe payments take about a week. To pay for the product and shipping upfront, you'd need about $500 in hand per order. A delay in order processing and fulfillment would translate into a bad customer experience, killing off your store's prospects for a return customer.
Additionally, in case of returns or exchanges, huge shipping costs would have to be incurred: high ticket products dig quite a hole for the retailers.
In both the above models, hunting down reliable suppliers is quite a task as well. One tiny issue and your brand name could be tarnished. Not to mention the elaborate step of placing orders manually.
Well, what is the middle ground between the two? The Spocket model seems reasonable, and the zero investment is definitely a plus. But let's rewind a bit!
What is the Spocket model?
Spocket is a zero-cost e-commerce solution that allows you to source quality mid-range products without worrying about the reliability of suppliers or manual order placement. Discounts as high as 30-60% off the market price of suppliers guarantee your store is competitive but profitable. Spocket is specifically designed to maximize retailer benefits with set procedures to facilitate smooth order fulfillment and easy returns.
Pros:
1. Sensibly priced items:
With golden discounts, products on Spocket are available for resale at wholesale rates: including unique products that are affordable but also provide value. Right from apparel to phone cases, you can choose items to suit your needs as an online retailer. Quick impulse buys and steady items that have been performing well in the market over the years combine in the Spocket model to optimize your sales.
2. Quality tested products
Every supplier on Spocket undergoes a strict quality check that involves interviews, sampling, and investigation. Whether a product is worth $3 or $150, you can rest assured that your customers will not be disappointed by the quality. That is one burden off your chest.
3. Branded invoices
Branded invoicing assures that no supplier invoice is attached to your package. Instead, your invoice, replete with your logo, personal note, and store name is pinned on for the customer. All boxes and packages sent out by suppliers are neutral, with no mark of the supplier or promotional material. Building a brand is not an easy job- and small steps like this go a long way.
4. Faster shipping
Possibly one of the biggest pros of the Spocket dropshipping model is that most suppliers are local to the US and EU, which means better products in faster delivery timeframes.
As mentioned earlier, this generation of instant satisfaction would require your store to stay on top of the game with the timely shipping of products. Spocket provides this service with trustworthy suppliers.
5. Automated Orders
Spocket allows one-click order placements: which is a major convenience when you receive multiple orders a day. Manual data entry is a waste of time. Just spend this time marketing your store and creating sales funnels, while order fulfillment is handled by Spocket's automation.
Cons:
1. Chat and call support restricted to paid customers:
With 20,000 merchants using Spocket, the chat and call support are locked behind their premium plans. The free plan allows email inquiries, but the ease of call and chat support is limited to the paid users.
This concludes a brief overview of the three major dropshipping models available to you: Starting a dropship business can be vexing. But making informed decisions can give you a headstart on the problems to tackle and the benefits to tune in!
Make sure you're using the ultimate dropshipping theme for Shopify to make sure your store loads lightning-fast and converts like no other.