What if I told you that your quest on how to find winning products has nothing to do with what you thought?
The truth is, you could spend weeks researching what is the best winning product.
A lot of dropshippers jump from product to product advertising on Facebook.
I get it.
You want that glorious morning where you wake up…
You grab your phone. You check your notifications.
And amazingly…
You find out you have notification after notification of new orders in your store.
Then you realize, you can scale your ad budget and improve your store's conversion rate with a high converting Shopify theme! Now, you'll be making even more sales from that same product. It's possible. This is completely achievable.
But I hate to burst your bubble.
How to find winning products has NOTHING to do with the product.
How to Find Winning Products: The Problem
There's a false mentality out there. That you can keep testing products until you have that "winner."
"This one has got to be the winner."
Do you know what that sounds like? People who spend their checks on scratch-off tickets or slot machines. I don't blame you. It's easy enough to view each ad campaign as a numbers game.
But guess what betting on "winning products" and slot machines do have in common? The house always wins. If you keep playing it that way, you'll go broke.
Selling products does not equal buying scratch-off tickets or playing slot machines.
How to Find Winning Products: The Most Important Thing
There's one thing to remember in every campaign you run. It's all about people.
That's the most important thing.
Here's the secret, any product can be a winning product. It comes down to marketing.
I know that sounds vague, so let me dive in more.
You don't create an ad, you create a story. You have to understand your positioning.
Creating Your Winning Product
Let's do a mental exercise.
Do you think it's possible to sell 700 million pounds of dough?
If I challenged you with that, how would you do it?
What if I said none of your customers could be restaurants? Oh, and they can't eat your product.
Oh, and you have to market it to kids.
You might say it's impossible. You'd stop taking business advice from me. And you might think I live in a make-believe loony land.
Okay fair, but a company has, in fact, sell 700 million pounds of dough already.
It's just a form of dough.
But they positioned it in a particular way.
They made it fun.
They had different colors.
They showed different things you could make out of it.
Now, take the Snuggie. It's a blanket with sleeves for crying out loud.
The Pet Rock. The dumbest thing we've collectively paid money for, as a species.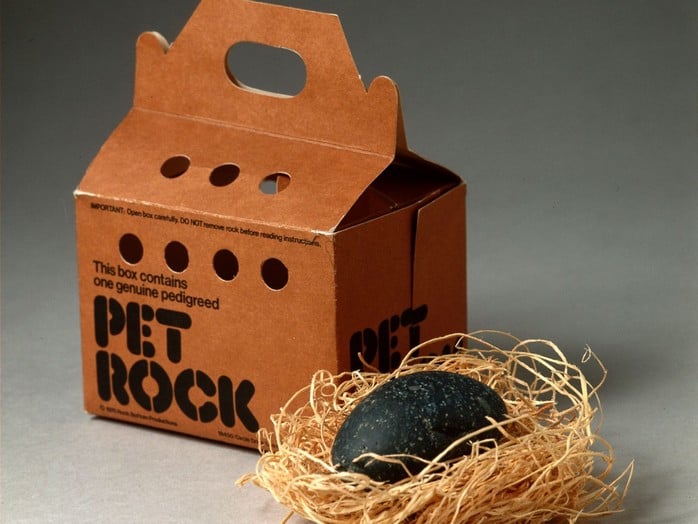 So how do you actually turn any product into a winning product?
The Magic Formula to "Finding" Your Own Winning Products
First off, you have to be more aware as a consumer rather than an advertiser.
Why do people buy things? To solve problems.
What kind of problems?
Drew Eric Whitman, a famous author, and copywriter proposed the idea of life force 8.
A mirrored version of Maslow's hierarchy of needs.
In short, he proposes there are about 8 biologically programmed desires.
I have paraphrased them here:
Not dying
Eating and drinking tasty things
Having no pain, fear, or danger
Staying comfortable
Sexy time
To win, to be regarded highly
To care and protect loved ones
To be accepted socially
The more of these that your product can do for your buyer, the more you're tapping into their biological NEED! In other words, you're golden.
If you take away anything from this, understand this:
People buy the movie that plays in their minds when they imagine owning your product.

Cologne or perfume. You can't smell it in an ad.
They're selling how sexy and amazing you'll smell at the club
(Sexy time + to be regarded highly + to be accepted socially).

Skin products. You can't feel how soft it is in an ad.
They're selling how confident you'll be and how well you will age
(Not dying + staying comfortable + sexy time).

Food. You can't taste it in an ad. They're selling the experience, the convenience.
They're selling how you can go out with your buddy. To come around and grab a table, drink a beer, watch the game, and talk about how awful your boss is.
(Socially accepted + eating and drinking tasty things).
So, again, how to find winning products? They're already in front of you.
But you may be asking…
How can you find out this formula for your own products?
I've got 3 W's for you to remember for every form of ad you create for your product.
What. What are you actually selling?
Who. Who is your customer?
Why. Why do they need it?
You Can Win At Anything
Let's run through an example that may look like most ads you've seen on Facebook.


This ad has:
No creativity
No story
No soul
It barely touches on a pain point.
What if you dig deeper?
Makes you look cool, black sleek gloves
Able to use touch screen technology without sacrificing comfort
Avoid frostbite of our hands in extreme weather conditions
So what's the story you can create with this?
Here's a start…
"Over 25,000 people in the USA die every year from hypothermia."
So what are you selling? Preventing frostbite.
Who is our customer? People who live in cold, rural areas.
Why are they buying it? To use their phones while staying warm.
What if you had a different kind of ad?
"These gloves could save your life.
Over 25,000 people in the USA die every year from hypothermia.
People die from the cold. And not just on Mount Everest.
At 15F below with a little bit of wind, frostbite is possible within 15 minutes.
Get your gloves here >> link
Movement of your extremities is the first thing you lose. Our gloves help you keep the movement in your fingers and be able to dial for help.
Be prepared and stay warm when the unexpected happens.
Be able to make the phone call that could save you or your loved one's life.
Get it here >> link"
It feels like an entirely different product. We're selling an entirely different aspect.
Some would say it sounds too long, but long copy always outsells short copy. Time after time.
One ad sells gloves, one ad sells your loved ones being able to call you for help in the cold.
You can do this with any product.
Let's Win Together
Let's make a winning product together.
You've probably seen this bag on Aliexpress
It's marketed as a travel bag. But we can do more with this.
1. What are you selling?
These are the features of our bag that we're selling.
Large capacity bag
Easy to access items
Waterproof
Looks cool
Lots of compartments
Lays out flat
Durable
Fits a suit
Wear it in multiple ways
But, we want to start understanding how to sell the benefits of the bag.
2. Who are you selling it to?
Well, most products don't have just one customer.
So, why should you treat it as one product when you advertise? You shouldn't!
So let's think of some potential "customer avatars" for this product.
World Travelers
Students
Business travelers
Growing up in the south, I've done plenty of fishing. And if you try to catch a fish with the wrong kind of bait, you're gonna be staring at some flat water all day.
Every kind of fish takes a certain kind of bait.
The same goes for marketing. I love Russell Brunson's sketch with this.


It's absolutely right.
Your targeted benefits = your targeted bait.
So, let's start defining the pain points and problems of each person.
Because they will have differences.
3. Why Do They Need It?
So let's dive into why world travelers would want our product and start spelling out benefits.
World Travelers
Feature. Different compartments.
Benefit. The bag without sacrifices. Holds your camera, laptop, kindle, journal, and more.
Feature. Shoe compartment.
Benefit. Be prepared to look snazzy. Have a pair of shoes for downtown and one for a beachside dinner.
Feature. Waterproof bag.
Benefit. Holds up even in the heaviest unexpected rainstorms. When water can easily ruin your belongings.
Feature. Garment compartment.
Benefit. Finally, one bag. And no more wearing the same clothes. Roomy design lets you carry all your travel clothes in one easy to manage carry-on bag.
Feature. Lays out flat when unzipped
Benefit. No more digging in your bag. Access everything easily in the bag with the unzipped flattened-out design.
You get the idea…
But I'm Not An Expert At My Product
You don't have to be an expert or a world traveler to understand these pain points.
Just Google.
"tips for a world traveler"
"things to know before you travel the world"
"What should I bring on a trip internationally"
You can reverse engineer any product you're selling to find out the golden nugget benefits.
It's about attaching a pain point to the lack of your product.
So, let's move on to the next fish to catch, the business traveler.
Business Travelers
So, why would business travelers want our bag? What makes them different from world travelers?
Feature. Lots of compartments
Benefit. Enough compartments to easily go through TSA security. Grab your laptop and passport in seconds.
Feature. Size
Benefit. Big enough to store everything, small enough to fit under the seat in a plane.
Feature. Shoe compartment.
Benefit. Wear your comfy shoes on the plane. Keep your board room shoes in your bag.
Feature. Garment compartment.
Benefit. Keep your suit in the garment compartment in the bag to keep it looking fresh out of the dry cleaners.
Students

Feature. Lots of compartments
Benefit. Perfect storage for all your notebooks, books, headphones, laptops, and more.
Feature. Stylish
Benefit. Be the cool kid on campus.
Feature. Waterproof bag.
Benefit. Holds up even in the heaviest unexpected rainstorms. When water can easily ruin your laptop full of last night's homework.
Pain Points Will ALWAYS Be Different
Depending on who you are targeting, your entire marketing angle will be different.
For each ad, you can't just use the same kind of bait over and over.
But you don't need a big production. You don't have to go film your product with each kind of customer avatar. Sometimes writing new product descriptions is all it takes.
Having a better, targeted ad copy is enough. It's enough to turn a product that isn't making many sales into a million-dollar
If you can order the product and take different pictures and videos, great.
But, writing doesn't take extra resources. It just takes research.
Your Homework On How To Find Winning Products
So who are some different customer avatars you can sell your product to?
Pick your who and then base an entire marketing campaign around them.
Pick the strongest pain point and use that in the advertising.
You'll find that in your research. Look through Amazon reviews of similar products. See what people love most about similar items.
Then from there, you can start to create laser-focused marketing. Create ads and product pages for different customers.
One product can be many different products if marketed the right way.
The buyer's intent is so much stronger doing it this way rather than taking a general approach.
Think about it. Would you rather get brain surgery done by a generalist surgeon or a brain surgeon?
It's a no-brainer (I had to.)
Instead of testing a million different products this week.
Try this: Figure out what stories you can tell with one product and use the highest converting Shopify theme.