How do you go about improving your Shopify SEO? You know that there's gold to be found in good SEO but where do you start?
It's no small task to optimize your store's SEO but if you break it down into bite-sized chunks and use the right apps along with one of the top premium Shopify themes you can get the job done.
44% of people start their online shopping journey with a Google search (nChannel).
37.5% of all traffic to e-commerce sites comes from search engines (SEMrush).
23.6% of e-commerce orders are directly tied to organic traffic (Business Insider).
What does that spell out for your e-commerce business? It means SEO needs to be a top priority if you want long-term sustainable buyers.
Before transitioning into E-Commerce Conversion Rate Optimization, I started my freelance career as a local SEO consultant and quickly realized how little most business owners know and that they rarely have time to learn everything about SEO and keep on top of the constantly moving goal posts after every major Google algorithm update.
This leaves anyone looking to outsource their Shopify SEO to an agency or freelancer open to being taken advantage of. That's why I wanted to put this checklist together so even if you don't have the time to do it all yourself you can keep on top of what the agencies are doing. Without it, they can easily pull the wool over your eyes.
The Direct Link Between Increasing Your Sales & Improved Rankings
There's a staggering difference between the amount of clicks you get from being in the first position vs the second. It can often be as much as double.
Backlinko analyzed CTR data across 874,929 pages and 5,079,491 search queries and discovered that:
1. The #1 result in Google's organic search results has an average CTR of 31.7%.
2. The #1 organic result is 10x more likelyto receive a click compared to a page in #10 spot.
3.Organic CTR for positions 7-10 is virtually the same. Therefore moving up a few spots on the bottom of the first page may not result in more organic traffic.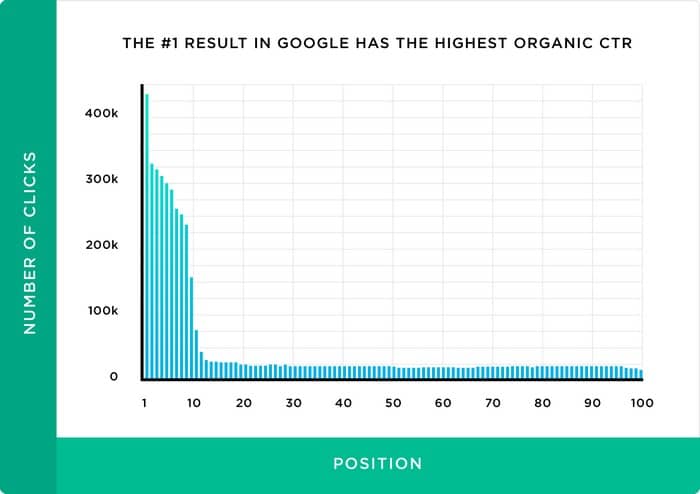 Think about it, there's psychological phenomena to being number one, it's almost like Google are giving their recommendation for the top-ranked store so most people will click on the top-ranked store.
What Kind of Increase in Sales Can You Expect?
It makes sense that the worse your starting position the more growth potential you have from improved SEO. If you're already ranked in the top 3 for most of your top keywords then the growth may be less significant.
Another important thing to consider is that content is king. In general terms, a store with thousands of SKUs has more 'bandwidth' to prosper from SEO than a single product store.
Having said that, the quality of your content makes a huge difference. If you have 1000 product pages all with generic product descriptions, copied from your suppliers' websites then Google will penalize you for it.
An easy way to get your content ranked rather than arbitrary blog posts is to produce quality buyer guides (a bit like this guide). Blog posts rarely get any traction because they are not what your shoppers are searching for.
Don't get me wrong, if you're a hopeful dropship or print-on-demand store owner bootstrapping your store's growth with SEO is going to be a hard slog. It's unlikely that you'll ever dominate the search engine results pages (SERPs) with a few tweaks here and there. SEO is a serious business with serious rewards but it takes time and investment.
Is Shopify SEO-friendly Out-of-the-Box?
People looking for the perfect e-commerce platform often ask this question and the simple answer is a resounding, yes!
Shopify have built their platform with SEO in mind and there's no reason why it would limit your performance.
The only limitations are ones caused by not following this guide properly or bloating your store with too many sluggish apps and failing to use a fast-loading Shopify theme.  (That's why we created an SEO-friendly Shopify template, the Shoptimized™ Theme.)
Built-in Shopify SEO Best Practices You Can Safely Ignore
Shopify handles the following SEO best practices out-of-the-box so you can safely ignore them:
Sitemap.Xml Generation
The sitemap makes it easy for the Google bots to discover and crawl all the key pages on your store. Without it, Google may not know that a page exists so cannot display it in the SERPs. Generating your sitemap is all done auto-magically by Shopify although you can remove pages from it if you need to. You can review your sitemap at yourstore.com/sitemap.xml
Robots.Txt Generation
The robots.txt file dictates how Google crawls your pages. It blocks Google from crawling irrelevant pages like /account, /register and /cart. It also blocks them from crawling duplicate content in product filters where the filters create new pages with the plus symbol.
You can review the file at yourstore.com/robots.txt. As of July 2021, you can now edit the robots.txt file if you need more customization over the allow and disallow rules.
Dynamic Parameters
A dynamic parameter follows the '?' you often see in URLs. The '&' symbol is also often included in a URL to allow for more dynamic variables. Here's an example URL with several dynamic variables:
https://www.amazon.com/Security-Wireless-ieGeek-Surveillance-Detection/dp/B0915R49LJ/ref=zg_bsms_photo_home_3?_encoding=UTF8&psc=1&refRID=PW5YWVZ11Y0TQPZAN95B
These URL parameters can be problematic if mishandled because users can't tell what the page is about. Plus Google often ignores three or more dynamic parameters.
Nevertheless, on the whole, Shopify stores don't use dynamic parameters in their URLs so it's a non-issue.
Server Speed
It's no secret that Google places a huge emphasis on page-load speed and if Shopify's servers weren't at the bleeding edge of technology it would be a huge problem. Luckily their CDN servers are blisteringly fast and have near unlimited bandwidth. This is a massive headache that Shopify takes away from you if you're thinking about migrating from another platform like Magento.
Outdated, Hackable Software
Thankfully, like their server speed, Shopify takes security deadly seriously too. This means that whilst no software can be 100% hacker-proof, Shopify is way in front of other platforms like WordPress. Hackers typically inject hidden links into your pages that point to dubious websites that Google's bots pick up on and penalise you for.
This blog uses WordPress and believe me, it's a constant worry as WordPress hacks are rife and they can kill your rankings.
How to Get the Most Out of This Shopify SEO Guide
The purpose of this Shopify SEO Checklist is a reference guide that you can use every time you create a product page. A category page. Or any content on your e-commerce site.
If you want to get more targeted traffic for your products, this is your guide. But first, you need to benchmark where your store is at so you can define your SEO goals and measure the improvements.
But before we get to that, there's no point auditing anything without knowing your target keywords…
Where it begins (Keyword Research)
Keyword research is the backbone of your entire strategy. Why?
Because it contains the data to make you the most money.
Without keywords, you can't:
Optimize your product descriptions for maximum conversions
Sub-divide your category pages for helping customers find what they want
Create an easy-to-use navigation menu so customers want to stay on your site
In short, keywords are the birthplace of your customer's intent to buy from you.
It's how they search. It's how they find you (and buy).
Finding Keywords That Don't Suck for Your Category and Product Pages
You could use any number of keyword generators to get keyword ideas. But that's not what we're doing.
We want to go after commercial intent.
How can we find keywords that show the intent to buy?
A competitor, of course.
And what better competitor than the biggest giant of them all. Amazon!
Chances are, Amazon is a competitor of yours.
Let's say you sell outdoor statues.
Notice how these keywords aren't necessarily "spin-offs" of other keywords? Rather they are extensions of what you typed.
These are long-tail keywords. Not only do these tend to convert better when people use them, but they are less competitive too.
I think you can agree that an 'outdoor statue for garden with solar light large' is a tad more specific than 'outdoor statue'.
You should do this for the main product categories you sell.
It's time we bust out Google Sheets and start copy/pasting some keywords into a spreadsheet.
After drilling deep into Amazon's product categories, I landed here.
We start to see other things that our store could be selling or ways to categorize what we sell.
Another great thing to take a look at is any filter settings.
If I click "See more" for material, I can see how many products are in each category.
This gives some insight into what is the most popular type. There is also another filter type.
This gives me ideas of how to categorize the different statues on my site.
Another great idea is to simply google for your product and see who comes up first on the list.
Search, then look and see who is running ads. We can also look at organic rankings, but I'm curious to see the paid contenders right now.
Let's see how this third site categories its products.
I would try the second one, but I know that they only sell bronze statues.
SEMrush
SEMrush shows you what keywords your competition is ranking for. This is important because this can help you figure out "where the money is" in the keywords.
Let's see what this competitor is ranking for, organically.
With this, we get some great insight into other keywords. Not only that but keywords that this competitor finds valuable enough to try to rank for.
We also get to see:
Their average SERP (Search Engine Ranking Position)
The traffic % this keyword makes up in their total traffic
Keyword volume
Keyword difficulty to rank organically
Cost per click on Google Ads
If you want to go a step further, click over to Competitors.
Then check out the list of domains that SEMRush thinks are this site's competitors:
Repeat this process of organic research with each domain, you'll have more keywords than you know what to do with!
Google Keyword Planner
Google Keyword Planner is a good 100% free tool at showing some of the more basic, but necessary information.
It's nice to be able to sort based on volume. Not to mention the ability to look at a multitude of keywords without being pestered into a trial of something.
We can also sort by cost per click and see what people are paying to show up for these keywords.
Keyword Dominator Tool
You can also use Keyword Dominator Tool. It will help you find more Amazon searches that are relevant to your product.
You can add them to your keyword list and then download them to a CSV.
I've consulted and written content for tons of e-commerce sites. I've seen some shit.
A lot of e-commerce site owners optimize their pages willy-nilly. Using random keywords.
They use keywords that aren't the best choice to get the most traffic.
This is a big mistake. Category pages don't convert as well as your product pages, true.
But it makes sense to spend time finding keywords for categories. They become the foundation for product pages.
So how do we do that? Again, looking at competitor categories.
I Have Keywords. Now What?
So, now you're probably wondering what keywords you should pick for your category pages and your e-commerce product pages.
Here's a 3-step foolproof checklist to figure out what the best picks are.
#1 Search Volume
This is the most important metric when evaluating a search term, hands down.
If no one searches for X, then it doesn't really matter how well X's product page is. Or how hard it is to rank for X.
How much is enough? It's hard to say. Sometimes for certain products, 100 searches could be a lot. If you're selling houses, that's huge. If you're selling garden statues, not so much.
Even 10k monthly volume might be a painfully small number depending on what you're selling.
Seasonality. You want to keep in mind seasonal variations when you search.
You may be searching during a high-tide moment in time for a given keyword. And that would suck to base a category (or business) on a keyword without knowing the full story.
#2 Conversion
So now that you have a list of keywords that you'd like to rank for before you spend a minute on your SEO efforts wouldn't you like to know if those keywords convert into buyers first?
This is a huge mistake I see a lot of store owners make. They launch headfirst into their SEO efforts only to find that they've spent months and a lot of money getting ranked for a keyword that just brings them tire-kickers.
It's far wiser to spend a little money on pay-per-click ads first to see which keywords from your list convert best.
Setting up ads is relatively simple, managing them to avoid emptying your bank account is trickier. We've written a comprehensive guide to Google Ads for Shopify and you can grab it for free.
#3 Keyword Difficulty
Keyword Difficulty (also known as "SEO difficulty" or "keyword competition") is basically determining how difficult it will be to rank for a specific keyword.
It's a critical part of your keyword research process because it allows you to decide which keywords are the lower hanging fruit vs the super hard ones.
Keyword difficulty is based on several factors, including domain authority, page authority, and content quality.
The trouble is, there's no consistency between the various tools that calculate keyword difficulty because only the Google Gods truly know.  Having said that, any of the tools will give you an indication as to how big of a mountain you'll need to climb. SEMrush is a great paid tool and MOZbar is a free option.
Part 2