What would your Shopify business look like if you could predict the number of sales you were going to make each and every month?
Would it relieve the stress of starting each month with a blank slate not knowing how much revenue your marketing efforts will bring in?
Would having better cash flow help with inventory management and even knowing how much to reinvest into your business?
Would it make your business more valuable when you eventually want to cash in your hard work and exit?
It's no secret that the longer you can keep a customer the more valuable your business becomes.
In fact, predictable revenue and customer lifetime value (CLV) are the key metrics that investors look for. They also want to know your churn rate, more on that later.
One of the easiest ways to ensure repeat business is to offer subscription boxes.  (If you're still struggling with the conversion part of getting customers, the Shoptimized™ Theme is one of the top Shopify templates with 30+ conversion boosting features built in.)
Whatever it is you're selling, there will be a percentage of your customer base that can't get enough of your type of products and will happily pay a monthly subscription to receive a mystery box crammed full of goodies.
These raving fans are worth thousands in extra profits compared to having to work really hard to get people to buy from you again on a piecemeal basis.
Plus, the predictable income it provides for you not only helps even out the ups and downs of entrepreneurial life but also hugely increases the valuation of your business.
Here are a few quick examples:
The possibilities are almost endless but if you need inspiration, CrateJoy makes it super-easy to research ideas.
Once you know what to sell, all you need is an app like Recharge to be able to offer subscriptions.
You'll also need a fulfilment partner like CustomCat for print-on-demand items or ShipMonk for other stuff (unless you want to start small and self-fulfil).
A Massive Opportunity Awaits You—By 2025, The Subscription Box Market Will be Worth $473 Billion
The consulting firm, McKinsey reports that 15% of Americans have signed up for one or more subscriptions to receive products on a recurring basis. They've also projected that the subscription e-commerce market will reach $473 billion by 2025, a staggering 3053.33% increase from $15 billion in 2019.
If you want to jump right in and capitalize on this mammoth opportunity, you're going to need a Shopify theme that rocks for subscription businesses.  The Shoptimized™ Theme integrates seamlessly with all the major subscription apps so you don't have any technical headaches getting set up.
5 Big Benefits of Bolting a Subscription Box onto Your Business (Or Simply Starting One From Scratch)
Predictable Revenue
I know I said it earlier but just in case you haven't grasped the gravity of being able to predict exactly how much money is coming in every month then it's worth repeating. The headaches of unpredictable revenue melt away when you know to the penny what's coming in every month. This way, anything you make on top is a bonus.
Of course, you have to make up for 'churn' which is when you lose a subscriber, but even that can become predictable after a few months of gathering customer data.
Predictable revenue also means that you can plan your inventory more smoothly and also plan your growth more reliably.
Better Cash Flow
The premise of the subscription box business model is basically getting your customers to pre-order each month. This means that they are giving you full payment in advance. This cushion gives you great cash flow to operate with – which is essential, especially for startups.
Lower Customer Acquisition Costs
Regular stores that rely solely on a pay-per-product model are forced to continuously spend on marketing to keep bringing new customers in the door. The trouble is, rising customer acquisition costs are the death nail for startups. It's no secret that acquiring a new customer costs 5-10 times more than keeping one that you already have so it makes sense to do everything you can to retain customers.
But with the subscription model, you don't have to replace each customer every month because you already know in advance that they'll be paying you again next month. This means you're not under so much pressure to spend on acquiring new customers. Having said that, you'd be foolish to not keep attracting more customers to replace the few that cancel each month.
Loyalty
The benefits of running a subscription business snowball because as you build a relationship with your customers and what they do and don't like in their monthly box, you gain deeper insights into what people want. This means you can continually streamline their experience by personalizing it which in turn, reduces the churn rate (key metric potential investors will want to know).
Easier Upselling/Cross-Selling
This ties in heavily with my point about loyalty because as you grow a trusting relationship with your subscribers it becomes far easier to upsell them and cross-sell to them.
And as you know, there are only 3 ways to grow a business; sell more things to more people, more often. This makes building a client base of loyal subscribers extremely lucrative because you're hitting two of the ways to grow as a natural consequence of adopting the subscription model.
Pro Tip:  The Shoptimized™ Theme is one of the best Shopify themes for increasing your stores's average order value.  It has a built-in cross-sell and upsell feature as just two of its 30+ conversion boosting features.
Choosing the Perfect Subscription Model
There are 3 basic types of e-commerce subscription model whether you're bolting it on to your existing pay-per-product model or you're looking to start a subscription business from scratch. Let's look at each:
The Curation Model (Subscription Box)
This model is what most people think of when talking about e-commerce subscription models. The idea is that you curate goodies for a niche market and send subscribers a mystery box each and every month.  In fact, 55% of all e-commerce subscriptions are curation-based.
The key to this business model is personalization, the more customized you can make the content of your boxes, the more you will surprise and delight your subscribers.
Like I mentioned earlier, CrateJoy makes it super-easy to get inspiration for your box service. (Don't worry, you don't need to switch to their platform, you can simply add an app like Recharge to be able to offer subscriptions on your Shopify store.)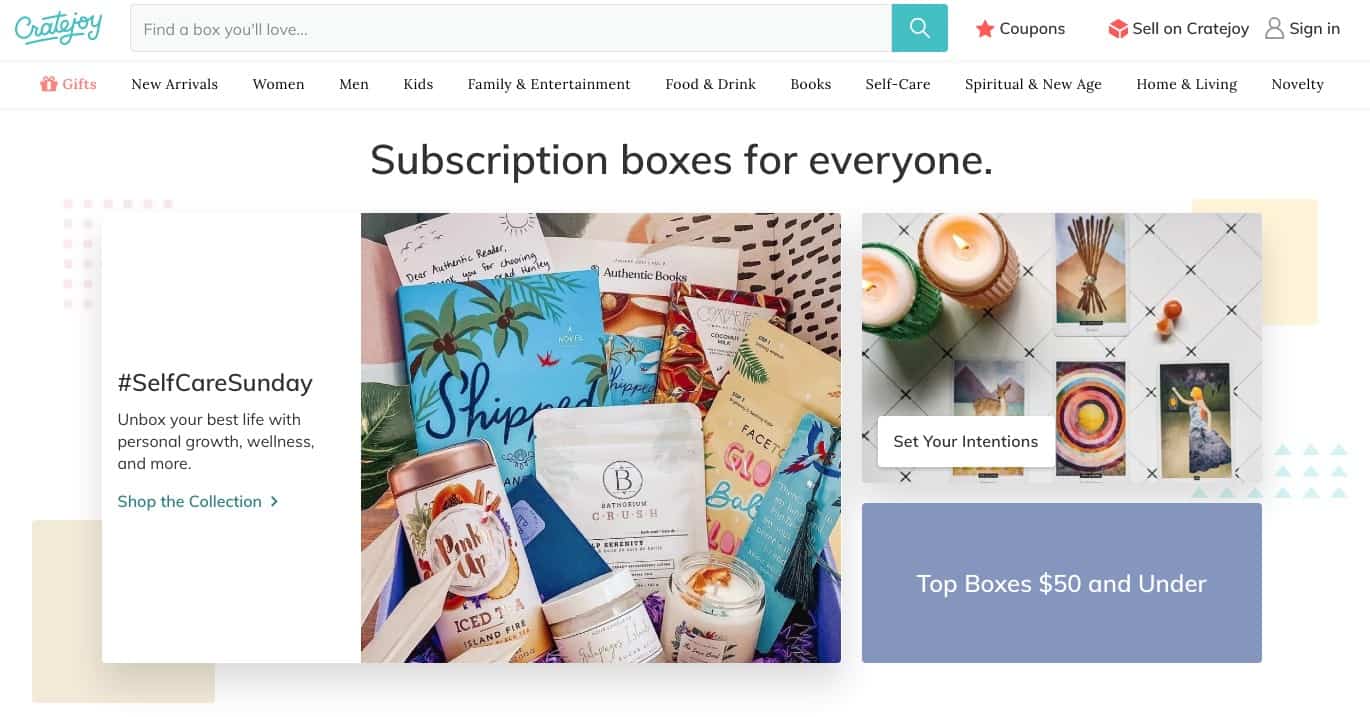 Pros
Highly lucrative:  As we outlined above, the opportunity to build long-lasting relationships with your customers and not only receive monthly recurring revenue (MRR) from them but also upsell and cross-sell to them is huge.  Subscription boxes cost anywhere from $15 to $100 a month and when you compound this MRR, your profits can scale rapidly.
Cons
Higher customer acquisition costs:  Once you get a new customer and they stick, they can be highly profitable but acquiring them is generally higher compared to one-off purchases.
High churn rate:  The novelty of discovering new products may wear thin after the initial excitement of signing up if you fail to continually surprise and delight your subscribers. This means that the model can suffer from a high churn rate.
Economic sensitivity:  Because subscription products are typically non-essentials, cancellations can skyrocket when times are tough.
Operationally complex:  You might be able to operate out of your garage in the early stages but as soon as you scale, you'll need space and staff to receive the products and repackage them efficiently.
Why Do People Love Subscription Boxes?
According to Forbes, Birchbox pioneered the trend of subscription boxes back in 2010 by simply sending out samples of personal care products. It's hard to believe that people will pay to receive samples but when you look at the stats below, you can see why.
Beyond trying new things, here are some key factors influencing the psychology behind why subscription boxes work so well:
Specificity:  The most successful subscription boxes cater to an 'irrationally passionate' audience with a specific area of interest, unique hobby or personal tastes.  Often, upon signup, the subscriber submits information that helps to customize what they receive in their box.
Exclusivity:  Some subscription boxes include products that are only available through them and nowhere else.  People love exclusivity.
Uncertainty Reward:  Dr. Charles Livingstone's theory of 'reward uncertainty' says that rewards stop working if they are always the same. By continuously giving subscribers a surprise, you are "hooking" them with the drug of uncertainty.
Community:  Some subscription box services have built huge communities where subscribers can geek-out with other like-minded people.
Replenishment Subscription Model
This model is all about providing convenience for people with busy lifestyles whilst saving them money.  Basically, you're upselling customers into automating the purchase of their essential items—often at an attractive discount.
Supplements, razor blades, pet food, cleaning products—anything with a predictable consumption rate are all perfect products to offer.
Pros
Higher conversion rates: 65% of customers who consider a replenishment service go on to sign up for the subscription.
Lower churn rate: Because the items are usually essential items, 45% of subscribers typically stick for a year or more.
Cons
Tight margins: Unless you're the manufacturer as well as the retailer, it's hard to maintain healthy margins because consumers dictate that you compete on price. You'll need to scale quickly to be able to benefit from economies of scale.
Access Subscription Model
Member-only perks and pricing for a monthly fee are what underpin this model. The predictability for you comes from the membership fees rather than the sales of the products themselves.
Pros
Operational simplicity: Compared to fulfilling personalized subscription boxes every month, this model is super-simple.
Cons
Low appeal: Unless you can consistently provide meaningful discounts on items that your customers really want and consume regularly, then you're going to experience a high churn rate.
What to Do Next
Think through the logistics of offering a subscription service and install an app like Recharge to be able to offer subscriptions on your Shopify store when you're ready. Make sure you're using the best converting theme for Shopify to help drive as many subscribers as you can.
Once you're ready to launch, leverage influencers on Instagram and YouTube to post unboxing videos of your subscription box to help bring in subscribers.