Which changes are going to have the biggest effect on your Shopify store's conversions? Which lever you should pull to influence your conversions the most?
The thing is, there are at least 51 things you can do to improve your store's conversion rate, sales, average order value, and profits…
But realistically, you're not going to be able to implement all 51 ideas straightaway.  And some ideas like split-testing will only be worthwhile once you have 10,000 or more visitors per month coming to your store.
Because of this, you need to tackle things in the right order based on what's going to have the biggest impact vs. ease of implementation.
So here are a few things that you can get started with right now:
Add social-proof
Reviews, testimonials, media mentions, 3rd party endorsements, and even the number of Facebook likes you have are all influencers on your conversion rate.
But you can also show how many shoppers have recently bought to leverage social proof.
Create scarcity/urgency
Do you have a genuine and believable reason to make someone purchase today?
According to research by Qubit, scarcity, urgency, and social proof are the top 3 influences on conversion.
Here are some ideas on how to add scarcity/urgency:
Do you have limited stock remaining?
Do you have a sale that is ending soon?
Is there an upcoming gift-giving holiday that your customer would be browsing for?
Just like a legendary copywriter, Gary Bencivenga said; "In most people, the fear of loss is a much stronger motivator than the desire for gain".
So by making users feel that the deal they want is going to go away, you can create a genuine sense of urgency.
That's why Shoptimized™ added an optional countdown timer on the cart page to help motivate users to complete their checkout.
and then there's the Exit Pop-Up which grabs abandoners' attention with a last-minute discount offer if they checkout in the next few minutes.
Plus, Displaying Remaining Stock is a fantastic leverage tool to get people to act now if you're selling out.
Uncover and overcome sales-objections
Hotjar polls are ideal for this.  Ask people why they didn't buy today using an exit poll.
If you really want to delve deep into this, we wrote a four-part series on How to Identify Your Shopify Store's Conversion Killers.
Test your call-to-action
Which works best for you, 'Add-to-Cart', 'Buy Now, 'I Deserve This' or something else?
Make sure your button color makes it 'pop out' from the page. Camouflaging your button in amongst all the other elements on a page won't help to bring in more sales.  A sticky Add-to-Cart button works well.
Why should someone buy from you? What makes your store truly unique?
If you don't know the answer to this and you can't tell someone succinctly then you need to read this and act upon it now.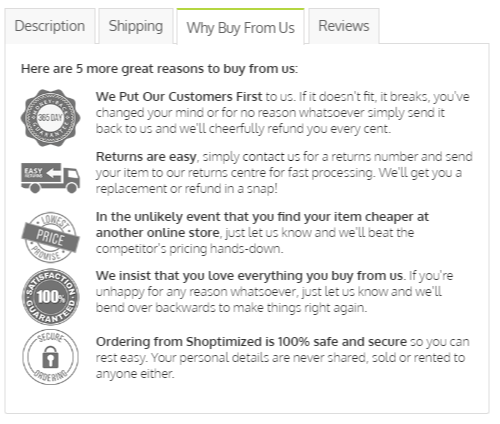 The Shoptimized™ Theme makes it easy to convey your store's value proposition, we even provide placeholder content but you really should have your own unique reasons for somebody to buy from you.
Don't just trot out boring features—tell the story…
Tap into the ultimate emotional benefit(s) that your product gives your customer and allow them to picture themselves owning your product.
This article tells you exactly what to do to persuade people to buy once they read your product descriptions.

Lazily copying AliExpress product descriptions and expecting them to convince people to buy from you won't cut it.
Test free shipping vs. flat-rate vs. free shipping threshold vs. variable
Do you have slightly higher-priced products but offer free shipping, or do you have a spending threshold to qualify? There's no one universal rule, you have to test this for your store and your customers (as with anything).
Here's an insightful case study from e-commerce store NuFace, they tested adding a free shipping threshold and it increased their orders by 90%.
They simply placed a "free shipping over $75" slogan above the "Shop NuFace button" – an intelligent move, which took into account where the target customer would be looking on the page and placed the incentive near it.
Test pricing
Surprisingly, cheaper pricing doesn't always convert better. Reassuringly expensive plays a part too sometimes. There's always a sweet spot where conversions are highest but without sacrificing profit by offering a ridiculously low price.
The quickest way to check your pricing is to do some competitor research on sites like Amazon.com, ebay.com, or a simple Google search and look at the shopping results.
Don't feel like you have to have the lowest prices and keep undercutting your competitors. You'll enter into a "race to the bottom" where everyone loses.
Once you're confident that your pricing is competitive, test whether tweaking it up or down affects conversions.
Does your guarantee/returns policy take all the risk from your customers' shoulders and place it firmly on yours? If it doesn't, you're turning the skeptics and fence-sitters away from becoming customers.
The Shoptimized™ theme makes it easy to showcase your store's risk reversal.  That's why it's one of the highest converting premium Shopify themes.
Find more ideas on risk-reversal here.
Your Offer 
I have found to be the single biggest influence on conversion, is your offer.
Take a look at the screenshot from Google Analytics. It's a Landing Page report showing the variation in conversion rate for each of our top 10 products on one of our stores.
The only variation is the product (and arguably the Facebook traffic because this is a multi-niche store).
But the point is, all other things being equal, changing your offer is by far the biggest lever for conversions.
So if your conversion rate is low, try different products or changing the appeal of the current product. Can you add a free bonus or free shipping?
Don't get me wrong, you need to pay attention to the other stuff I mentioned above because things like pricing and your guarantee form part of your offer…
But if your products are naff, miss the mark for your target market, or are wrongly priced with harsh shipping costs, your conversions will suffer.